By Lori Janeson
Prepping for a long-distance paddle in a canoe or kayak isn't quite the same as getting ready for a weekend of camping. Sure, there's some overlap in your packing and to-do lists, but you'll be sorely under-prepared if you treat your paddle like just another jaunt into the woods or a quick day paddle around your local beach.
That's not to say you need to be intimidated by the prospect of a few days — or even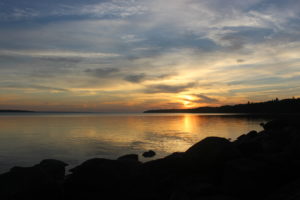 longer — on the water. Like the old adage says, you just need to "always be prepared."
Here's a look at 12 of the most important things you'll need to bring on your long-distance paddle, plus a few additional items to remember before you head out on river, lake, or sea.
1. A Sturdy, Appropriate Watercraft
Your ideal watercraft will depend on the size of your party and the type of trip you're planning.
"On a leisurely trip with your partner or a couple friends, an aluminum or fiberglass canoe might be your best bet."—Lori Janeson
If you prefer your own craft, opt for freshwater kayaks — you can find two-seaters if you and your partner are inseparable. On open water prone to swells, sea kayaks are ideal, as freshwater kayaks capsize easier in rough water.
2. Waterproof Containers
Bring a dry bag big enough to hold any possessions you don't want to get wet: electronics, clothing, cooking equipment, sleeping gear. Make sure it seals tightly, especially if you plan to travel on rough water. And don't forget a "waterproof container" for yourself — i.e., a spray skirt that covers your cockpit opening.
3. Local Maps
Bring local water and land maps with as much detail as possible. Your water maps should be official navigation maps, if possible — i.e., maps that show actual distances to scale and detailed depth readings. Look for topographical land maps — though they're more expensive, they provide valuable insight into the local terrain and can help you plan your put-out sites ahead of time.
4. Signal Whistle
Your signal whistle alerts others that you're in distress. Hopefully you won't have to use it, but you'll be thankful you brought it if and when you do.
5. Bilge Pump
Bilge pumps force excess water out of your cockpit, keeping your feet dry and your boat sitting high in the water. Even if you don't capsize or hit a wave, your bilge pump will help keep excessive spray under control.
6. Spray Skirt
A spray skirt deflects excess water away from your cockpit in the first place. With a spray skirt, you'll still want to use a bilge pump, but it won't need to work as hard.
7. Reliable Lights
If you plan to paddle after sunset or in the early morning, you'll need a headlamp and reliable flashlight. You'll need a flashlight in any case, if only to move safely about your campsite.
8. Paddle Leash and Floats
A paddle leash keeps your paddle within easy reach. A paddle float is useful for spotting an errant paddle in open water, and for helping you back into your boat without necessitating a trip to shore.
9. Lightweight Tent and Sleeping Bag
Use synthetic sleeping gear to reduce weight. Look for models that pack down neatly, and use the smallest possible tent to cut down on bulk. There's no reason to bring a family-sized tent when a pup tent will do.
10. Water Treatment Tablets
On a multi-day trip, you can't possibly carry all the water you'll need for drinking and washing. Bring iodine tablets or other antimicrobial water treatment products to replenish your potable water supply when it's not possible or feasible to boil for at least 15 minutes.
11. Compass or GPS
When an old-fashioned floating compass won't do, bring a battery-powered GPS. It should work even in areas without reliable cellular service.
12. Sunblock
No matter where you are or what time of year it is, sunblock is an essential addition to your kayaking bag. Water is like a mirror: Its surface reflects sunlight right back at you, bathing you in solar radiation from all sides. Don't be fooled by cloud cover either. The protection afforded by sunblock dwarfs that lent by overcast.
You Can't Be Too Prepared
If you're planning to spend serious time away from modern conveniences, this is the general rule. Redundancy is your friend. That one thing you decide not to pack because you're almost certain you won't need it could just end up being the one thing you really do need at a critical juncture.
You'll also want to keep a few things in mind. Keep in mind that this isn't a comprehensive list of to-dos and tips for wilderness paddlers — just a handful of common-sense wilderness safety items that are all too easy to forget:
Tell someone where you're going:

Always tell a friend or relative where you're going, even if you expect to see others out on the water. They don't know who you are or where you're headed.

Register with the appropriate authorities:

If you're heading out into a protected backcountry area, register with the appropriate local authorities — usually a ranger service. Be sure to note how long you plan to be away and your planned route.

Have a way to get in touch:

Don't forget your cell phone! (See above.) If you expect not to have cell service on your journey, consider investing in a satellite phone or emergency radio. As a last-ditch fallback, consider flares — though those are only appropriate in a rescue situation.

Check the weather:

Expect the weather to be anything but predictable. Check the forecast a few days before you leave, then again regularly until you hit the water. Pack accordingly. On long trips, pack a long-range weather radio as well.

Check park or ranger alerts:

Know what to expect once you're in the wilderness. That means checking maritime and ranger alerts for hazards like high waves, wind, storms, fire, and the like.

Know what you're up against:

Know what to expect wherever you're going. For instance, bears are endemic in much of North America. If you don't know how to secure your food supplies and avoid potentially hazardous situations (like nursing mama bears), you're going to have a bad time.
Got all that? Good. You're going to love your time on the water!
Lori Janeson is an outdoor enthusiast and avid kayaker living in Winnipeg, Manitoba